If you want to capture the attention of people who are interested in the products and services you have to offer, then you need to find out what keywords they're searching for and add them to your content.
But to do that you'll need to conduct keyword research, and no one wants to spend money analyzing keywords that won't drive results. Luckily, you don't have to. With the eighteen free keyword research tools discussed here, you can get valuable keyword insights without spending a dime.
WordStream Free Keyword Tool
Moz's Keyword Explorer
Ahrefs' Keyword Generator
SEO Scout's Scout Suggest
Keyword Planner
Google Trends
AnswerThePublic
Wordtracker
Google Keyword Planner
Keyword Surfer
Keyworddit
QuestionDB
Ubersuggest
TubeBuddy
Hashtagify
Semrush Keyword Magic Tool
Soovle
AdWord & SEO Keyword Permutation Generator
1. WordStream Free Keyword Tool
First founded in 2007 by Larry Kim (who is now the CEO of MobileMonkey), WordStream is a Boston-based online advertising company that focuses on paid search and social media.
But WordStream doesn't just offer paid software and consulting services—it also provides a robust suite of free tools designed to help users evaluate their digital marketing performance. One of those is their Free Keyword Tool which, as its name suggests, is a no-cost keyword tool.
The tool works for both Google and Bing (a handy bonus if you're working on improving your Bing SEO), and features options to see keyword suggestions based on a specific URL, industry or location:

Type in the keyword of your choice (we chose SEO), set your desired parameters and click the find my keywords button to instantly see a list of 25 suggested keywords. You'll also be shown the search volume, cost per click (CPC) and competition for each keyword on both Google and Bing: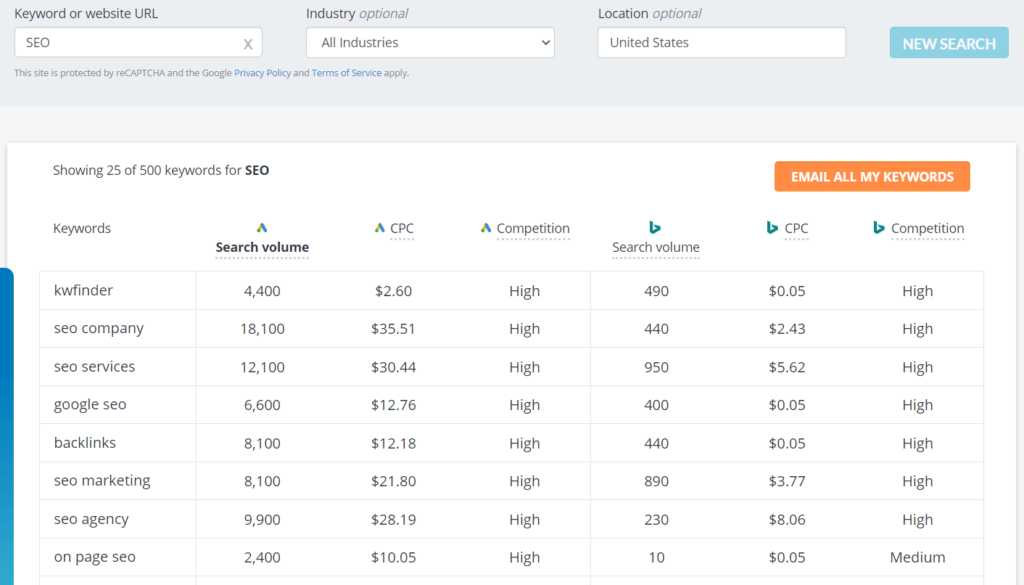 Want to see more than 25 keywords? Don't worry, you won't have to pay—just click the orange email all my keywords button in the upper right-hand corner of the screen. Once you enter and submit your email address, you'll receive a link to download an Excel file of all the tool's suggested keywords.
Ours contained 501 keywords, arrived almost immediately and required no additional sign-up steps: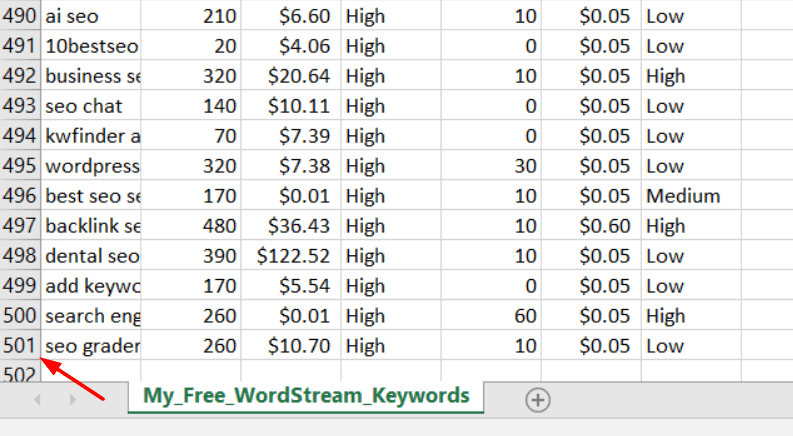 2. Moz's Keyword Explorer
Moz was founded as SEOmoz in 2004 by long-time search engine gurus Rand Fishkin and Gillian Muessig. Today, Moz is an SEO powerhouse with a wealth of both paid and free software offerings.
For those of us looking to conduct some truly in-depth keyword research without breaking the bank, Keyword Explorer is undoubtedly the best keyword tool for the job. (You'll get to make 10 queries per month with the free version, so be sure to choose them wisely.)
Keyword Explorer allows users to search for a keyword, root domain, subdomain or exact page, as well as to filter results by location:

Once you've entered your chosen keyword and picked a location, click analyze to see a variety of helpful metrics including monthly search volume, difficulty, organic click-through rate (CTR) and more: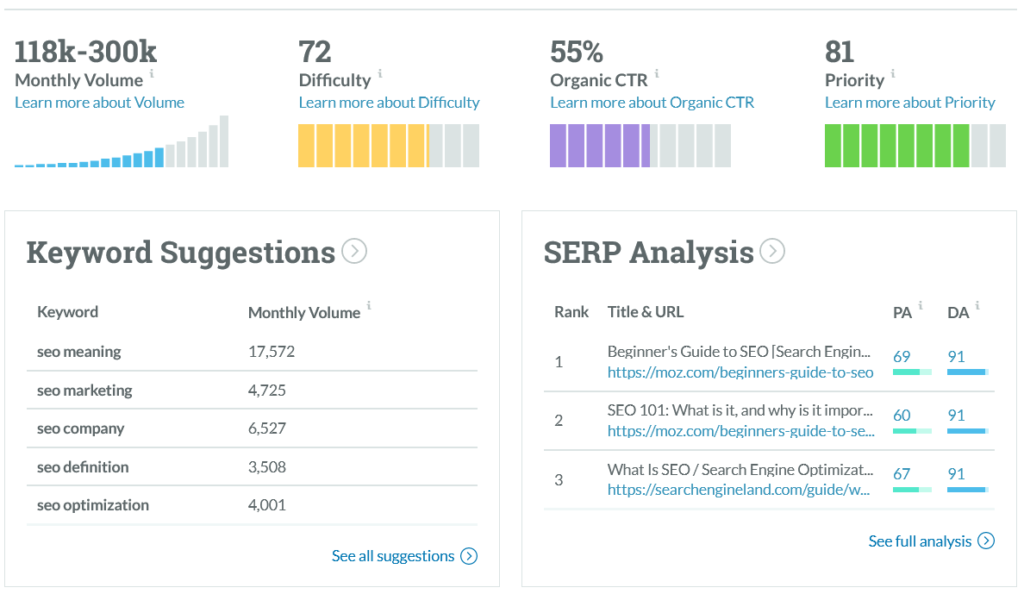 To see an extensive list of keywords, click see all suggestions at the bottom of the Keyword Suggestions box. On the subsequent page, you'll be able to customize your results using several filters: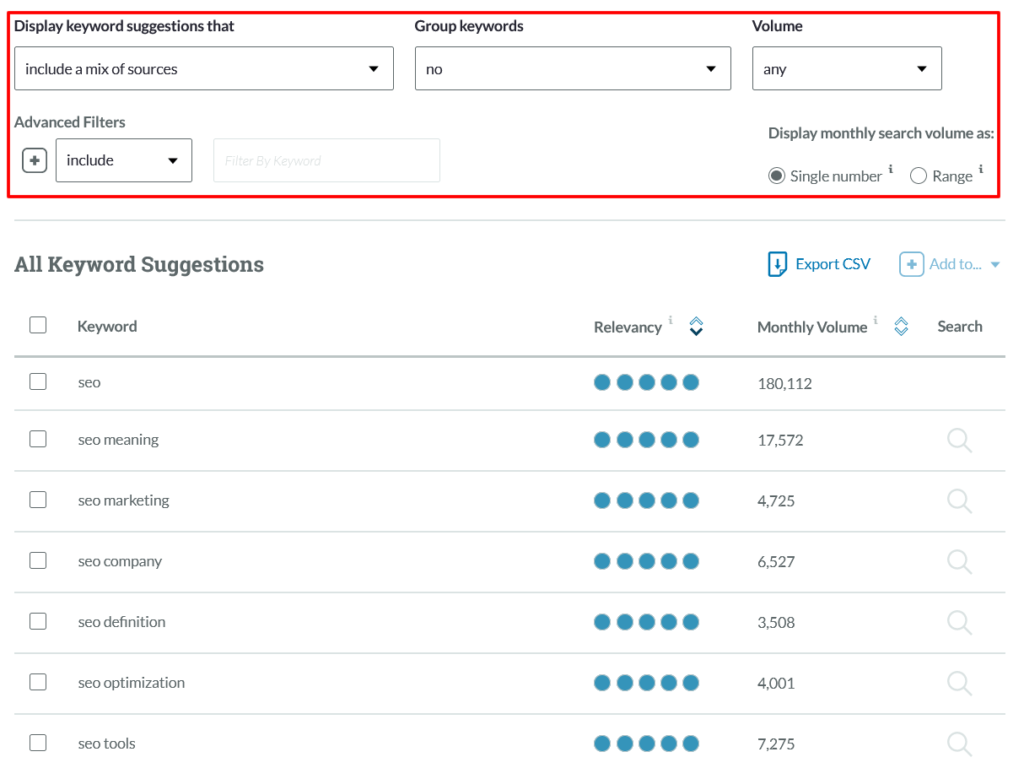 Or if you want to see which pages are currently ranking for your chosen keyword, instead click see full analysis at the bottom of the SERP Analysis box. This will display a detailed breakdown of the first page of Google's results: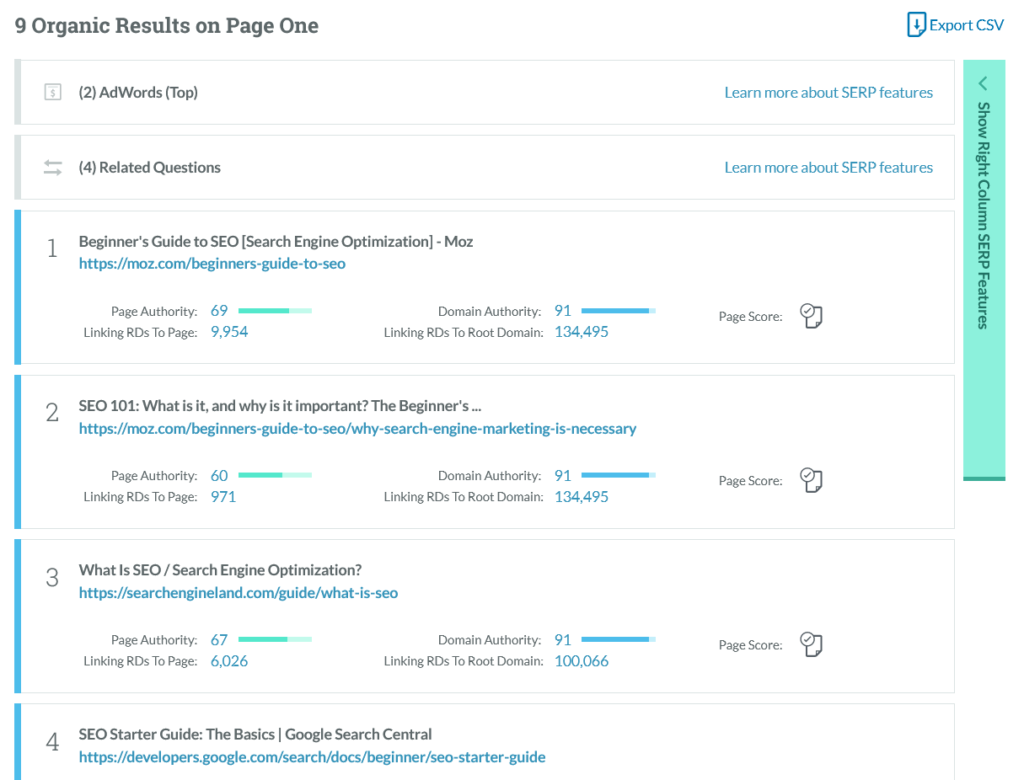 3. Ahrefs' Keyword Generator
Dmitry Gerasimenko founded Ahrefs in 2011, but his work on document search engines began much earlier. Perhaps that explains why Ahrefs' index is so impressively exhaustive—it updates its catalog of backlinks every 15 minutes and processes up to eight billion pages per day.
But we're not here to talk about Ahrefs' backlink index. Instead, we're here to discuss one of its many free SEO tools, specifically a keyword tool called Keyword Generator.
To use it, select the platform you'd like to view keywords for (Google, Bing, YouTube or Amazon), enter your keyword and choose your preferred region:
(Video) 7 Free Keyword Research Tools for SEO, Bloggers & YouTube

Hit the find keywords button and you'll promptly see a long list of keywords. This list will include metrics such as each keyword's difficulty and volume, as well as the last time they were updated in Ahrefs' index: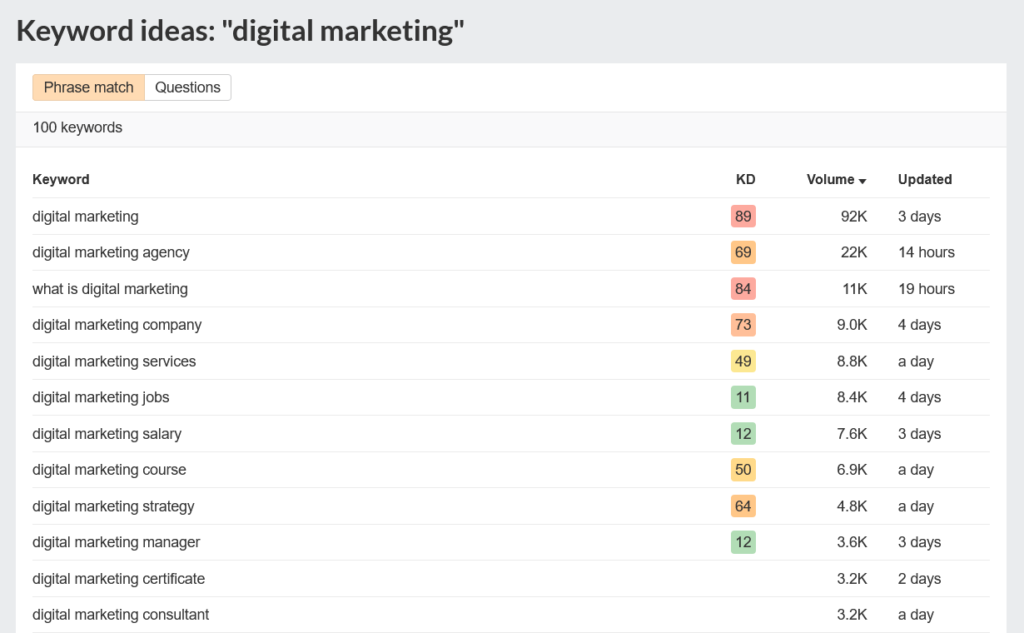 You can also click the questions tab to see 50 questions people are asking about your chosen keyword: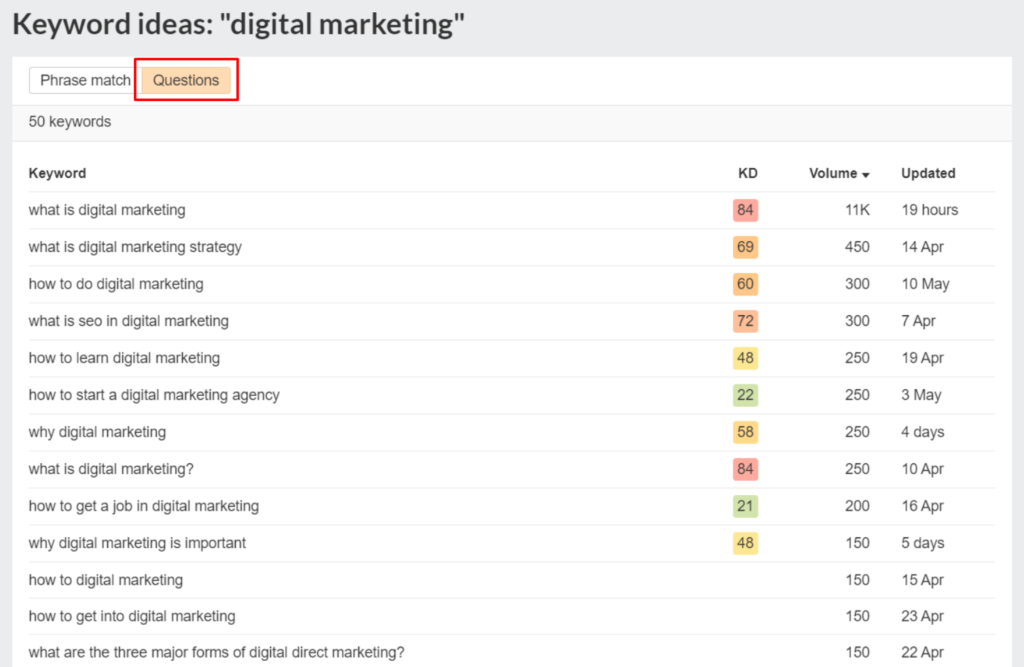 If you'd like to see more than 100 keyword suggestions (or 50 questions), you'll need to pay a small fee for a seven-day trial.
4. SEO Scout's Scout Suggest
SEO Scout is a relatively young UK-based SaaS company that was founded in 2019 by Jonny Platt. Its products include tools for researching keywords, topics and entities, split testing page copy, tracking Google rankings, identifying missing keyword opportunities and addressing keyword cannibalization issues.
The company also offers a generous selection of free tools such as Scout Suggest. This keyword tool allows you to customize results by language and location, and also gives you the ability to choose whether you want to see phrases, questions, research and more: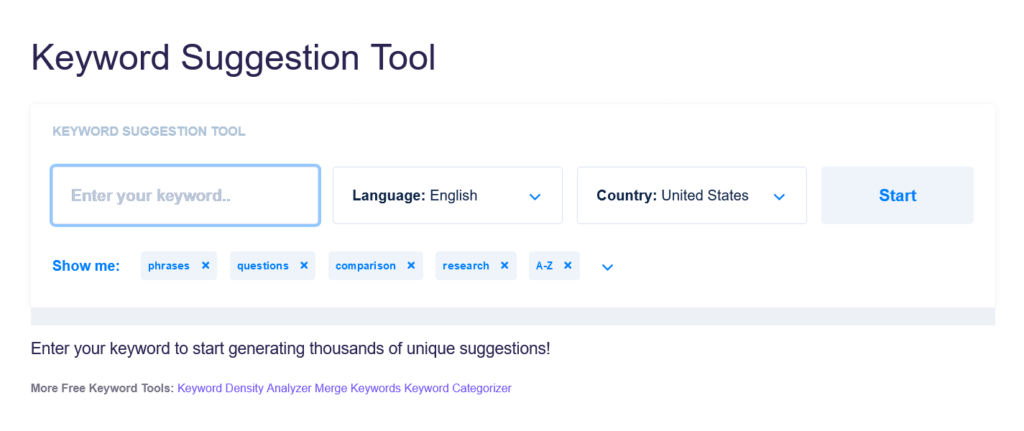 After entering your preferred keyword or phrase, click start to see the tool's suggestions (we received more than 250 recommendations for the keyword phrase schema markup):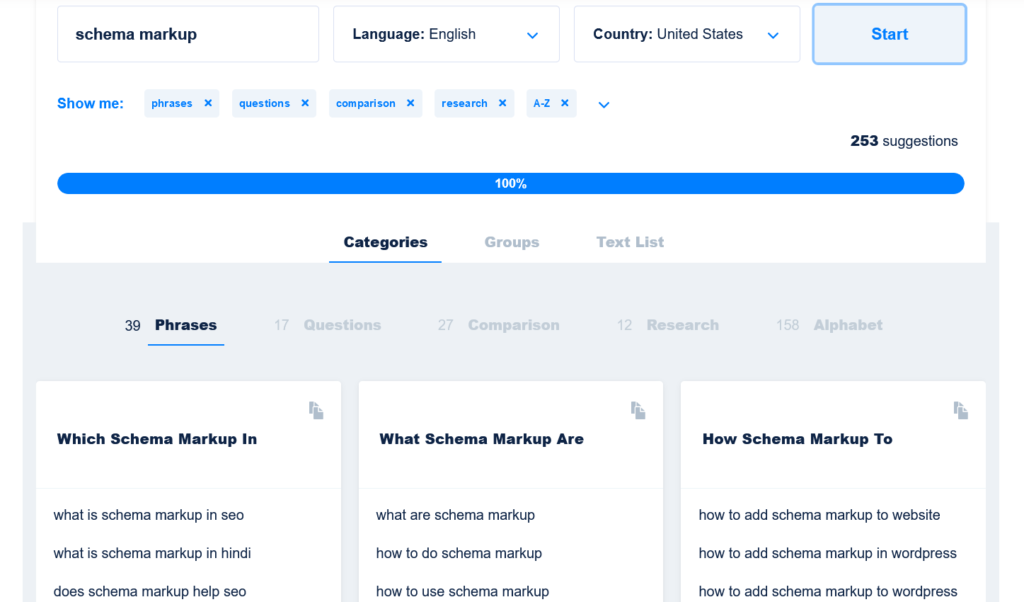 Notice that at the top of your results, you're able to organize the tool's suggestions by categories, groups, or a text list. Under the categories tab, you're also able to sort by phrases, questions, comparisons, research and alphabetical order:

5. Keyword Planner
Not to be confused with Google's product of the same name (more on that below), Keyword Planner is a keyword tool that uses autocomplete application programming interfaces (APIs) to generate and provide data about long-tail keywords.
So how does Keyword Planner compare to Google's keyword tool? According to Keyword Planner themselves, it has two benefits which Google lacks. Specifically, it allows you to:
see different keywords than those generated by Google; and
use the tool without creating an account.
To use Keyword Planner, simply choose your region, enter up to five keywords separated by commas and click the magnifying glass button. You can also select your preferred search level—the higher the level, the more keywords will be generated and the longer the search will take:

When we used a level one search to research three separate keywords, Keyword Planner returned a whopping 2,413 suggestions—that's over 240 pages. The only catch is that you'll need to sign up for a Keywords Everywhere API key if you also want to see each keyword's monthly volume, Google Ads CPC, Google Ads competition and overall trend: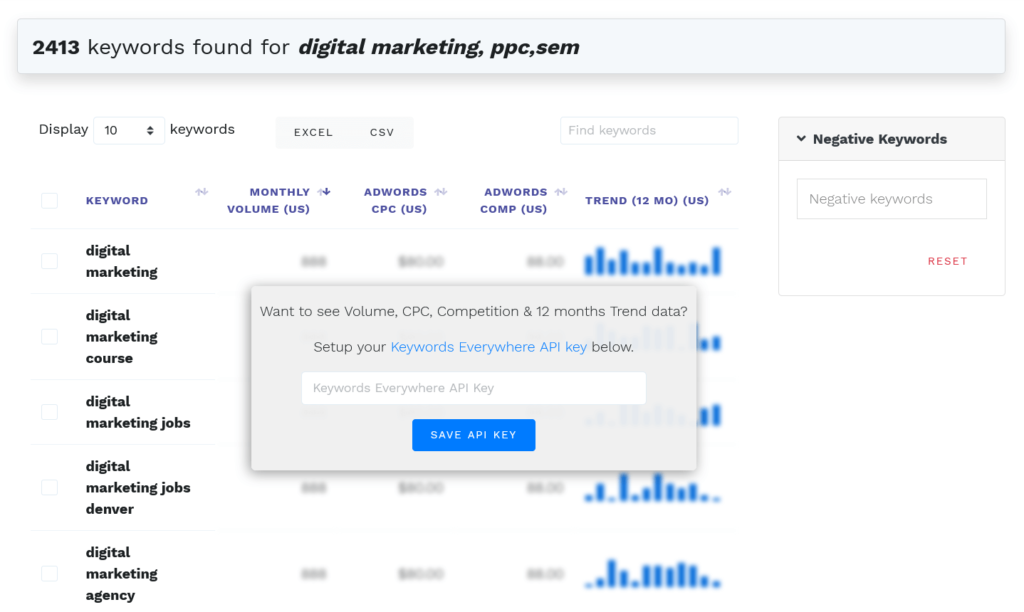 6. Google Trends
The search giant might not have designed Google Trends to be a keyword research tool, but for many SEO professionals that's exactly what it is.
Unlike the keyword research tools we've discussed so far, Google Trends doesn't actually suggest keywords for you to target. Instead, it reveals Google users' previous and current interest in your chosen search term or topic.
For instance, here we can see that interest in the Google algorithm is the highest it's been in the last 12 months: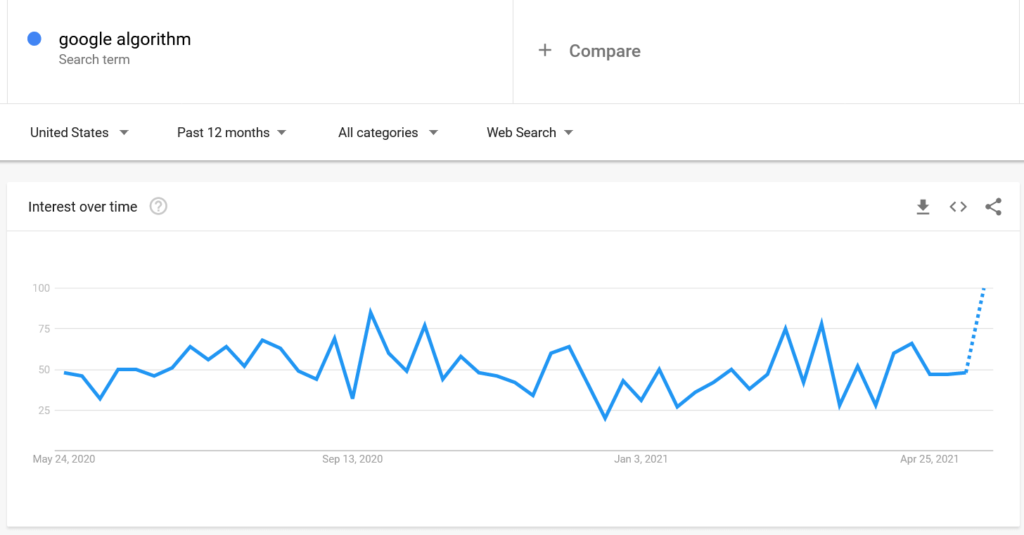 Scroll down and you'll also see interest by subregion (in this case, U.S. states), as well as a small selection of related topics and queries:
(Video) My 9 Favorite Free SEO Tools For 2022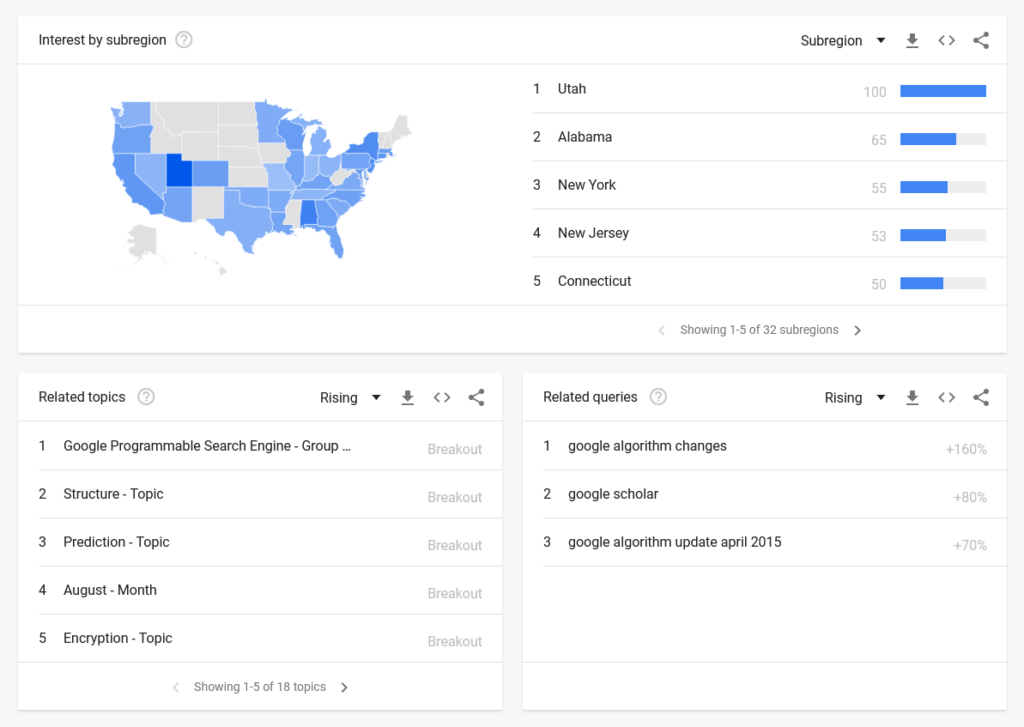 So while Google Trends won't provide you with an exhaustive potential keyword list, it will give you valuable insights about a keyword or topic you already know you want to target.
7. AnswerThePublic
One of the best ways to determine the relevant keywords you should be focusing on is to examine the types of questions that search engine users are asking. AnswerThePublic, a tool developed by the team behind CoverageBook, will let you do just that for free.
There's no need to sign up for an email list or create an account—simply enter a topic, brand or product, choose your region and language and click search:

You'll then be greeted with a clear visualization of the questions people are asking about your search term: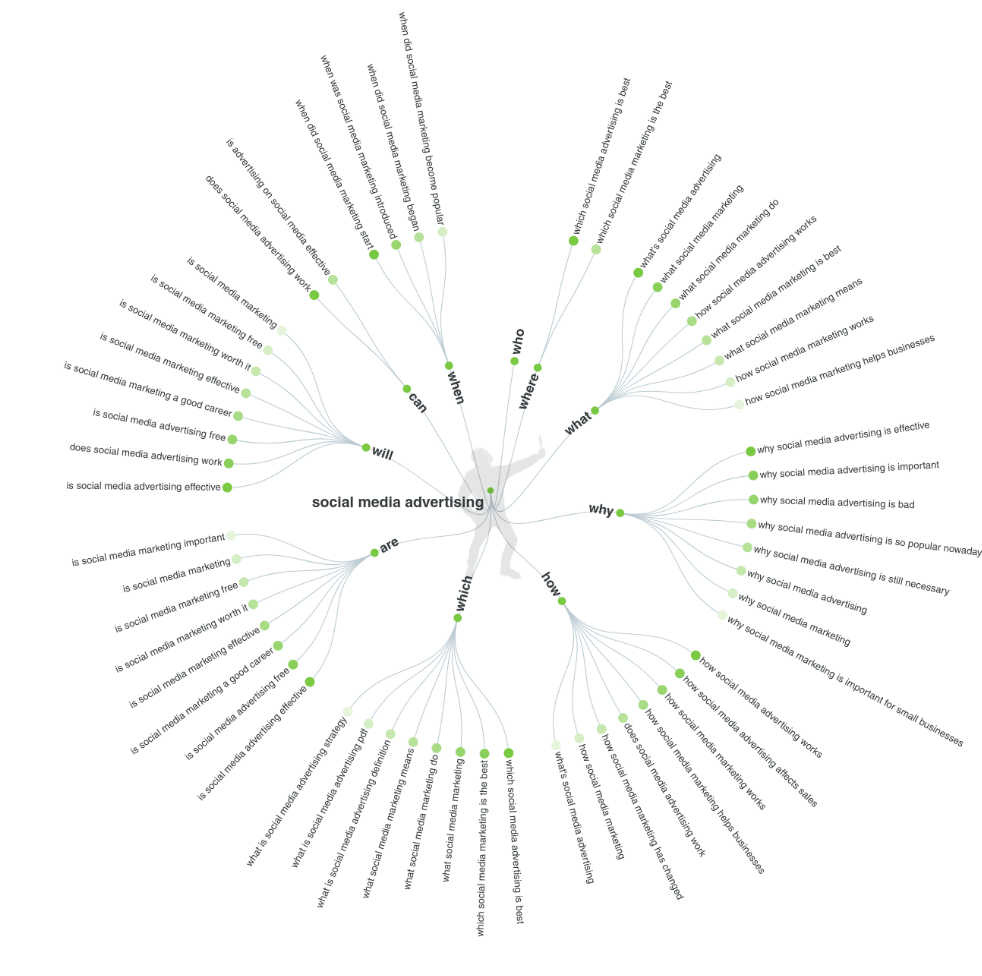 Scroll down and you'll see more visualizations of relevant prepositions, comparisons, alphabeticals and related queries.
If visual representations aren't your thing, just click the data tab at the top of any graph to see its contents as a group of lists instead: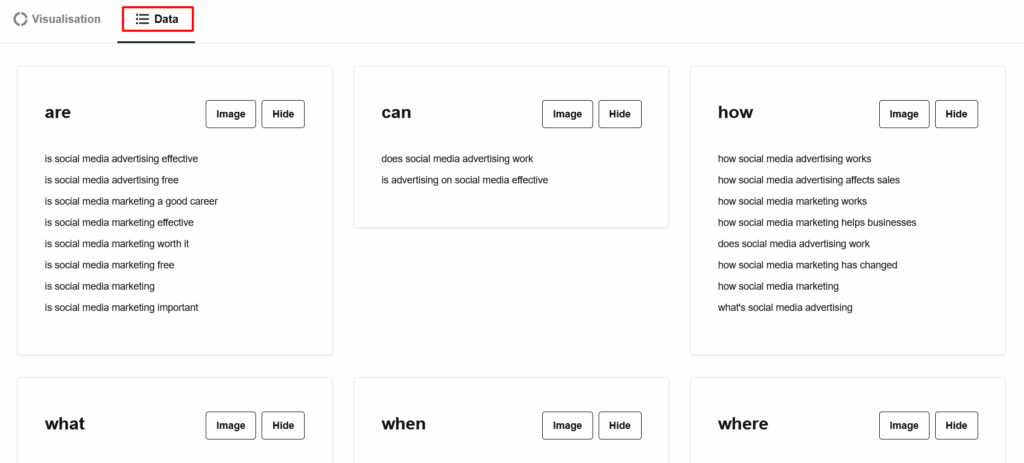 8. Wordtracker
Founded in the late 1990s by brothers Mike and Andy Mindel, the London-based company Wordtracker has been around for as long as Google.
Although Wordtracker offers many paid SEO-related products, it may be best known for its free keyword tool.
To start using it, enter a seed keyword or phrase and click start:

On your results page you'll see a list of keywords (50, to be exact) and their corresponding data, as well as the option to choose your preferred search engine and change your region: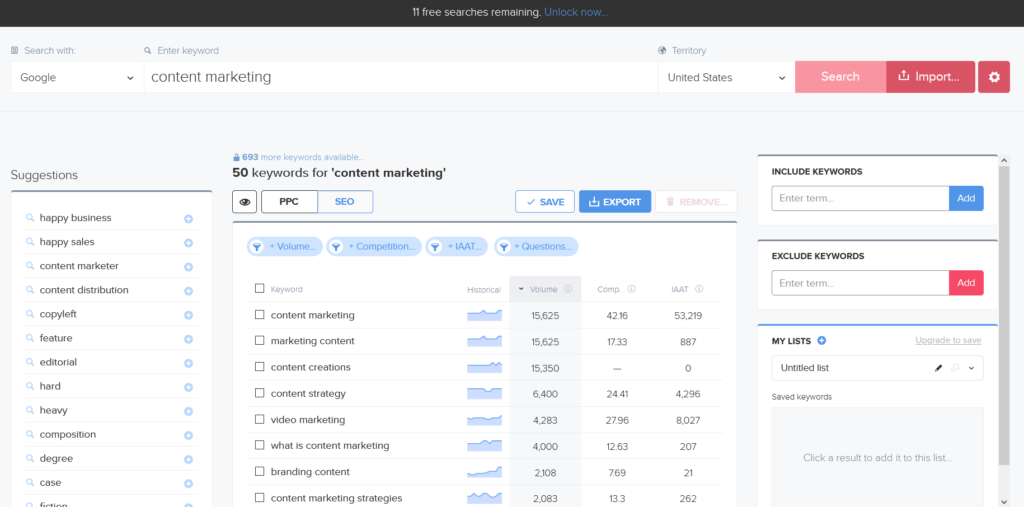 After using up your limited number of free searches (as you can see in the screenshot above, we have 11 remaining), you'll be able to unlock unlimited searches by signing up for a seven-day free trial. After that, the most basic Wordtracker membership plan will cost $27 per month.
While this is pushing the limits of the definition of a free keyword research tool, we think it's worth including. That's because Wordtracker boasts a number of features and capabilities that Google's Keyword Planner doesn't, such as:
actual (i.e. not grouped) keywords;
actual (i.e. not banded) results;
competitor metrics;
search engine results page (SERP) comparisons;
live chat customer service;
related and lateral search;
Amazon and YouTube keywords; and
negative keyword search.
So if you're looking for a keyword tool that has all those features, Wordtracker's free version is sure to please in the short-term and its paid version may also be an ideal long-term solution too.
9. Google Keyword Planner
We would be remiss if we didn't include the legendary Google Keyword Planner.
As a tool provided by the search giant itself, it's a given that the insights you glean from Google Keyword Planner will be accurate and reliable. There is one major caveat, though: To start using Keyword Planner, you'll need to create a Google Ads account. And to do that, you'll need to provide an email address and business website.
Once you've set up a Google Ads account, you'll be ready to go.
Like many of the other tools we've looked at so far, Google Keyword Planner suggests new keywords and provides valuable data about each one. What makes it unique is that it will also give you bid estimates for each keyword, and can even be used to create a fully-fledged plan.
In Google's example, we can see that a plan includes the expected number of conversions, overall cost, CPC, conversion rate and more:
(Video) 7 FREE Keyword Research Tools for SEO & YouTube - Complete Tutorial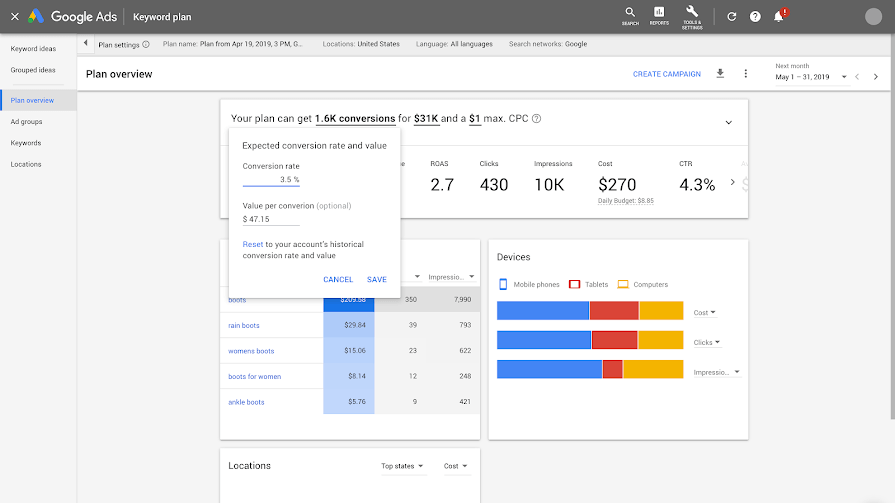 You might have to jump through a few hoops to use it, but Google Keyword Planner is an undeniably powerful tool for SEO practitioners who are running or planning on running a Google Ads campaign.
10. Keyword Surfer
If you're looking for a way to perform keyword research without even having to navigate to a new page, look no further than Keyword Surfer. This free browser extension comes courtesy of Surfer SEO, one of our favorite on-page optimization tools.
Once you add Keyword Surfer to Chrome (it's unfortunately not compatible with any other browser as of July 2022), all you need to do is perform a Google search to see it in action: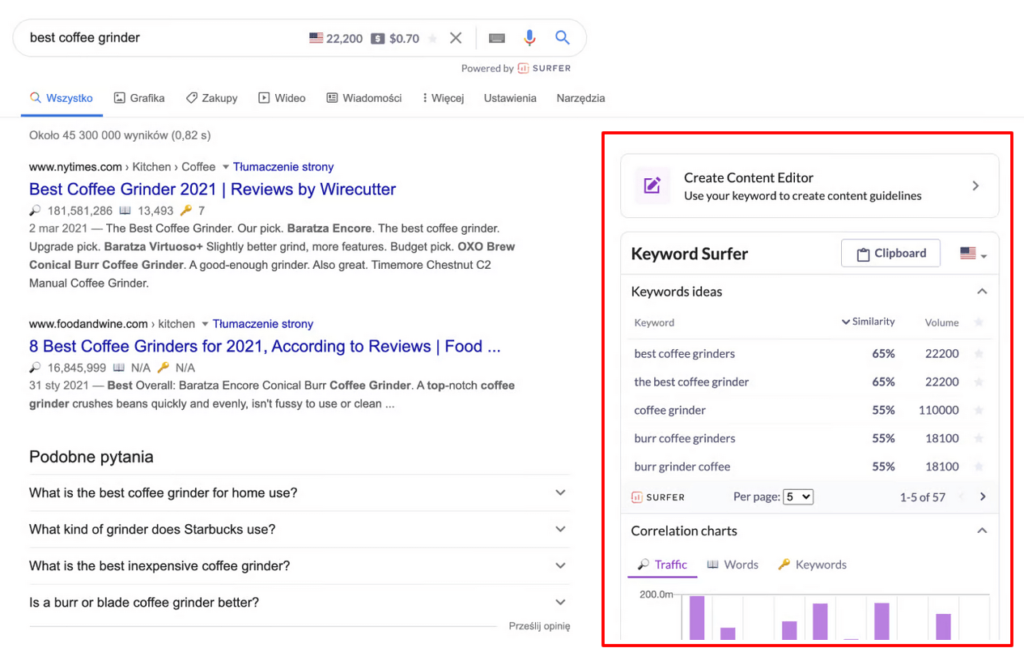 The tool will instantly show you a selection of keyword ideas (along with their similarity percentage and overall volume) and correlation charts from top pages, so you can see exactly what the competition is like.
You can even use the extension's Content Editor to get customized content guidelines designed to get you the most traffic possible from your chosen keyword.
Residing outside the United States? No problem—Keyword Surfer includes datasets from 70 countries across the Americas, Europe, Asia, and Oceania so you'll always see the SEO data that's most relevant to you and your location.
11. Keyworddit
If you've ever tried creating content for Reddit, then you already know what a unique platform it is. Simply put, the SEO tactics that work like a charm on other sites may very well be completely ineffective on Reddit.
That's why tools like Keyworddit are so valuable: since they're designed specifically for Reddit, you never have to wonder if the results it generates will benefit your Reddit SEO strategy.
To use it, simply enter the name of your target subreddit in the search bar and click get keywords:

The tool will then generate an extensive list of keywords from the subreddit, all organized from highest search volume to lowest. In the marketing subreddit, for example, the top keywords include entry level jobs, social media marketing, and best business schools: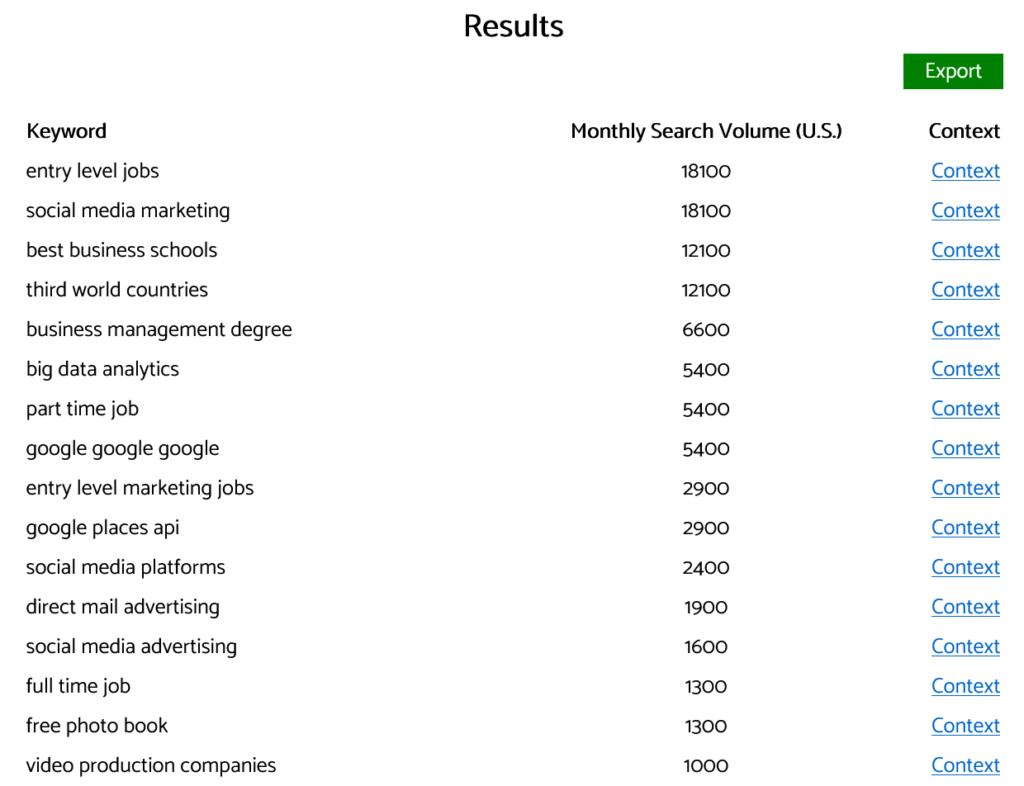 To see the specific instances of Reddit users using a particular keyword, just click context and you'll be taken to a Google results page showing just that. For instance, these are the results for the keyword entry level jobs: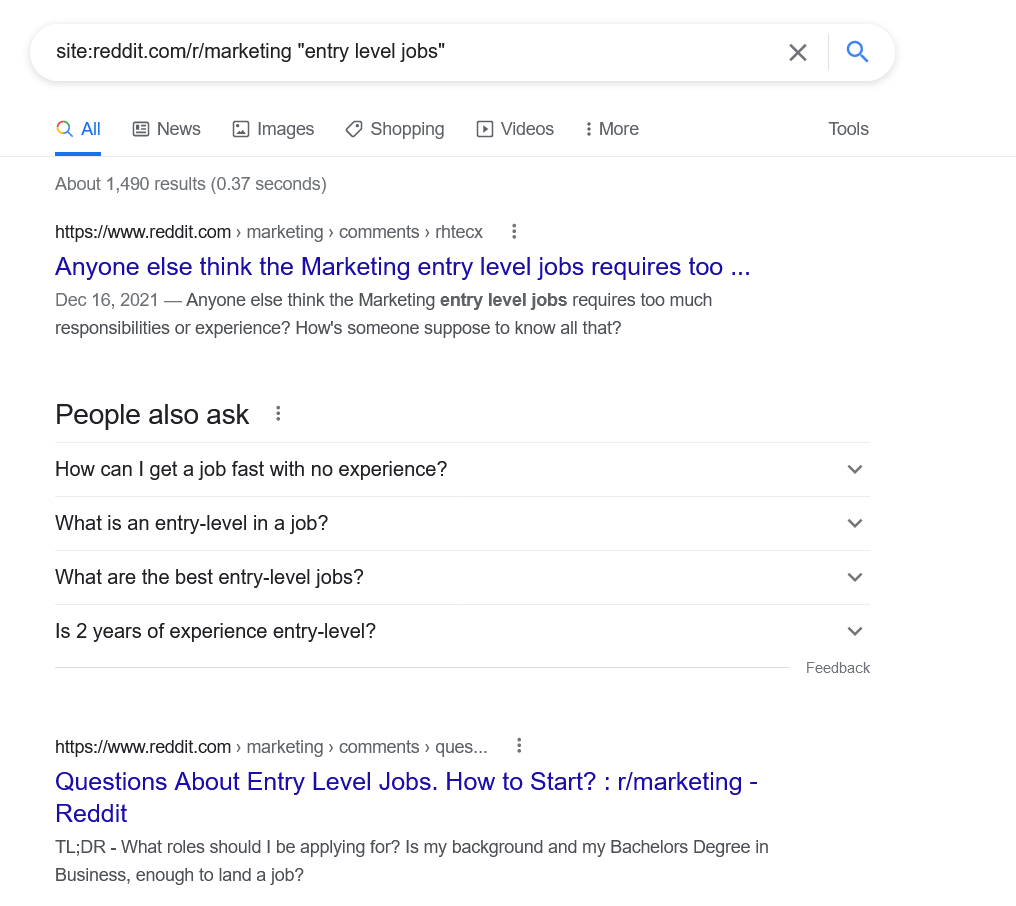 With Keyworddit's help, you can take the guesswork out of your content creation process and start using the keywords that Reddit users actually care about.
12. QuestionDB
Much like AnswerThePublic, QuestionDB goes beyond bare-bones keyword research by focusing on questions specifically. So if you want to see more results than AnswerThePublic can offer, QuestionDB will be right up your alley.
To use it, enter the broad keyword of your choice. For instance, you could enter recipes, artificial intelligence, or electric cars. Next, you'll be presented with 50 examples of questions that real people are asking regarding your chosen topic (we went with recipes):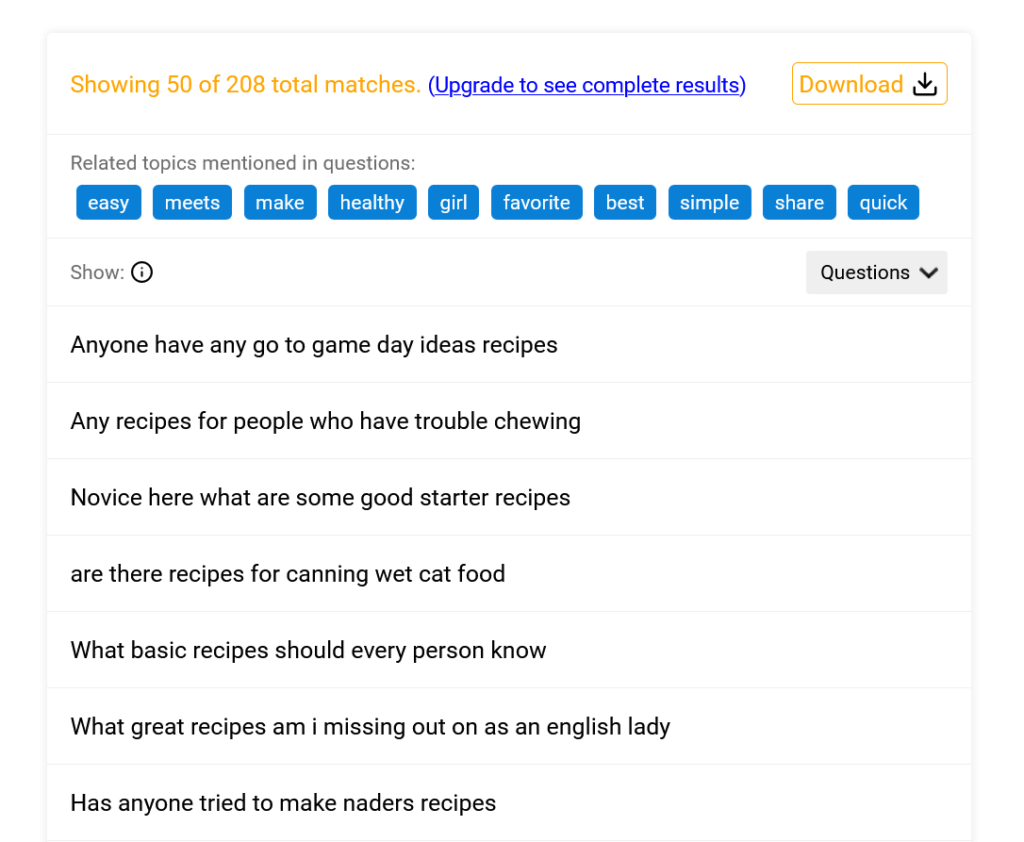 How does it work? As QuestionDB explains, "millions of questions have been asked on various websites over time." When you search for a topic, the tool "finds these ideas in real-time and returns them to you in a convenient format."
In other words, the questions it finds aren't necessarily the most frequently asked ones, but they are the ones that people are asking right now.
13. Ubersuggest
If you're in the world of SEO, then you've probably already heard of Neil Patel. It's thanks to him that we have Ubersuggest, a multifaceted tool that provides rankings comparisons, content ideas, backlink data, and more.
But for our purposes, we're most interested in its ability to generate a wealth of valuable keyword-related information. To use it, simply enter your site's URL (free users get three searches per day) and click search. Then open the keywords dropdown menu and you'll be able to choose from a variety of options, including:
keyword overview;
keyword ideas;
keywords by trafic;
similar websites; and
content ideas.
Each of those can be used to uncover different insights—for example, using the similar websites option we can view the top keywords driving traffic to any URL:
(Video) Kwfinder Tutorial: How To Do Keyword Research Like A Boss keyword tool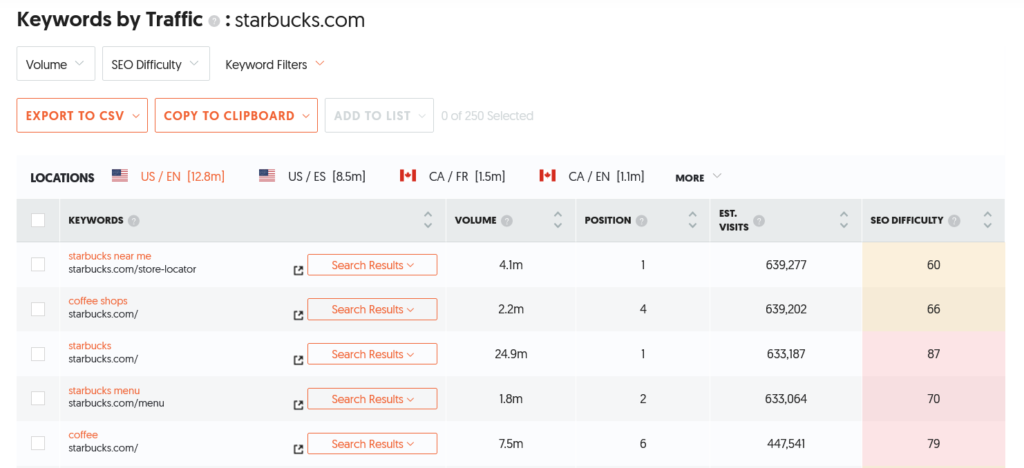 And if you want Ubersuggest to follow along wherever your browser takes you, you can also download the 100 percent free Chrome extension.
14. TubeBuddy
Because it revolves entirely around video content, YouTube SEO is very different from any other type of SEO. Thus, the tools you can use to perform in-depth keyword research are different as well.
The browser extension TubeBuddy is one such tool, and while it costs nothing, it might just be able to give your YouTube channel the competitive edge it needs.
To get insights about specific keywords, just type one in the search bar and you'll see a great deal of data presented in an easy-to-understand format. That data includes your channel's overall score for the given keyword, interest in the keyword over time, related searches, and more: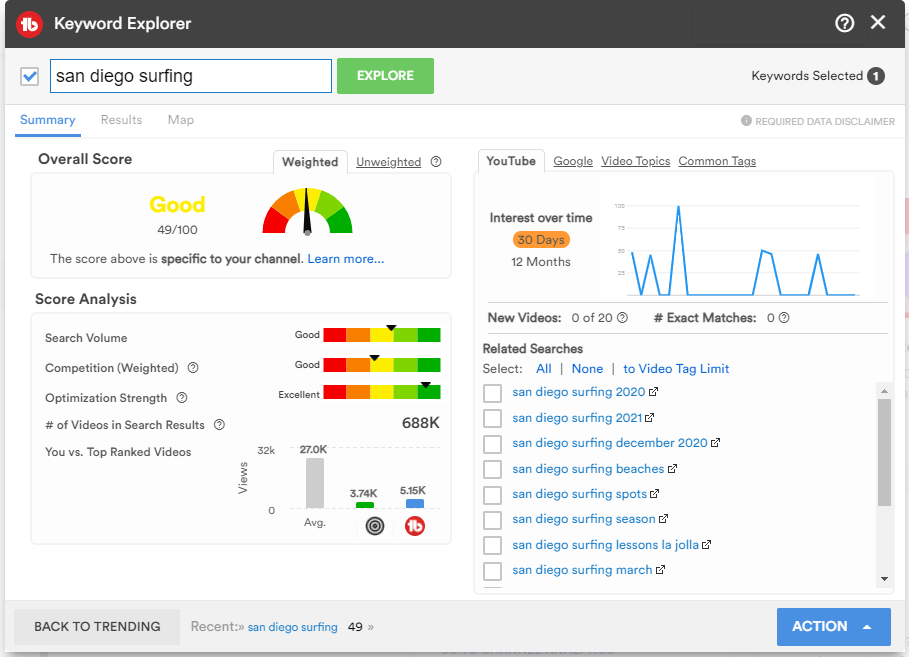 You can also reverse engineer an existing YouTube video. To do so, simply click on any of the video's tags from within the TubeBuddy extension, or right on YouTube's search results page.
15. Hashtagify
If you're looking to give your Twitter marketing strategy a boost, Hashtagify can help.
To start, all you need to do is type the Twitter hashtag of your choice and hit enter. Once you do, scroll down to see an impressive array of current data including current popularity, related hashtags, top accounts, popularity over time, and more. For this example, we chose #superbowl (who knew Justin Bieber was such a prolific football tweeter?):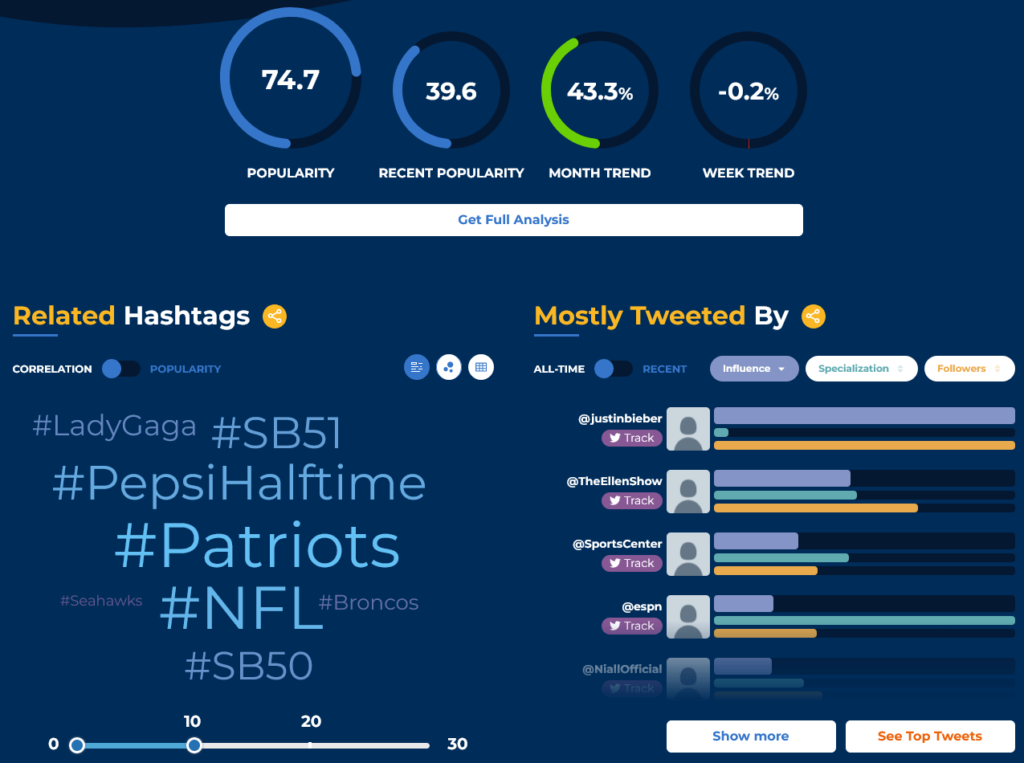 To view more in-depth information, get custom-tailored suggestions, or perform research on Instagram hashtags, you'll need to purchase a paid plan or find another tool to use instead.
But if you're primarily interested in seeing the popularity of a given hashtag, finding out which accounts are creating the top tweets, or viewing interest by country, then Hashtagify's free version will be more than adequate.
16. Semrush Keyword Magic Tool
Did you know that one of the all-time best keyword research tools also comes with a free version? It's true — with the Semrush Keyword Magic Tool, you can search for up to 10 keywords each month without needing to spend a dime.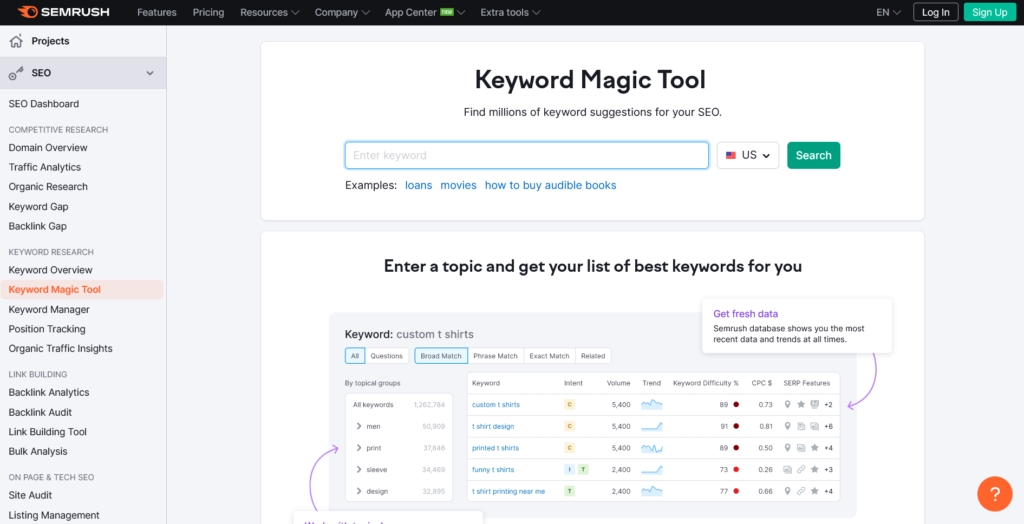 After entering the keyword of your choice, Semrush will show you an extensive list of either broad match, exact match, phrase match or related keywords, depending on which option you select.
You'll also be able to sort the tool's results by monthly search volume, keyword difficulty, competitive density and more, so you can always find exactly the information you're looking for.
17. Soovle
If you want to see the autofill suggestions from a variety of widely-used search engines at once, then Soovle is the best keyword research tool for you.
Enter any keyword you'd like — no account required — and the tool will simultaneously display the search queries suggested by the autofill algorithms of seven high-traffic sites. Those sites are Google, Amazon, YouTube, Bing, Wikipedia, Yahoo!, and Answers.com: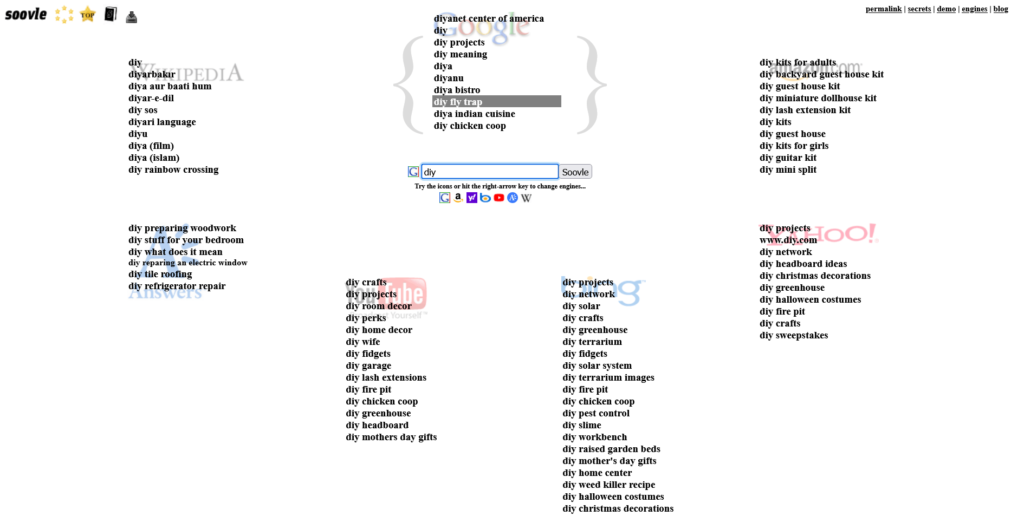 If those sites aren't quite what you're looking for, just click on "engines" in the top right corner to customize which search engines Soovle shows. You can choose from options like eBay, Baidu, Overstock and more to generate results that better suit your needs.
18. AdWord & SEO Keyword Permutation Generator
Ever wondered how many key phrases you could make out of an assortment of your target keywords? If you have, the AdWord & SEO Keyword Permutation Generator can tell you.
To use it, just enter three lists of keywords in the provided boxes, with one keyword per line. Each list can be as long or as short as you'd like. Next, click the button labeled generate permutations to see every possible permutation appear: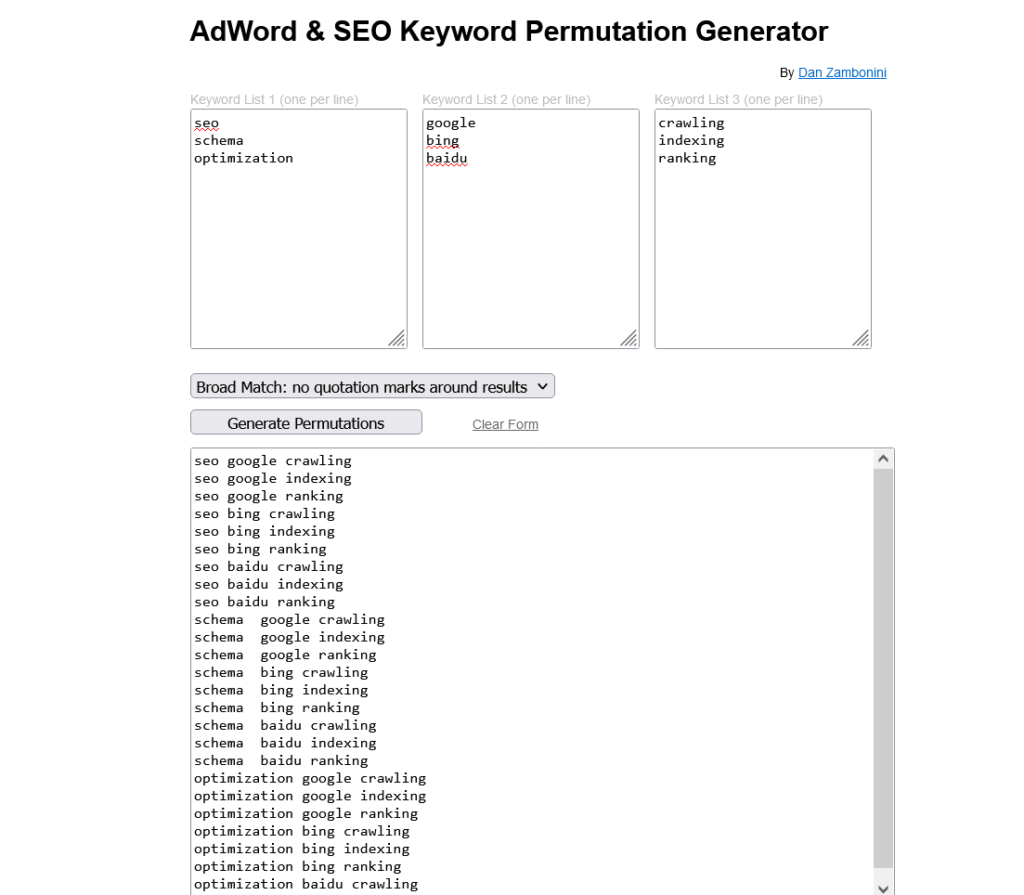 For added customization, you can also use the drop-down menu to choose whether you want the tool to generate broad match, phrase match or exact match results.
(Video) Helpful Content Update 2022 - AI and Affiliate Site Killer??? 😲
Free Keyword Research Is Worth Its Weight in Gold
Although the tools we've covered might cost nothing to use, the information they can reveal has substantial value.
After all, keyword research forms the foundation of a well-informed SEO and content strategy. So if you want to better understand your audience, generate more conversions and reach the people who will be the most receptive to your message, use these free keyword research tools to pave the way.
Image credits
Screenshots by author / May 2021 – July 2022
Google / May 2019
TubeBuddy / Accessed February 2022
FAQs
The best free keyword research tool for advanced SEO

Semrush offers a broad range of keyword research tools, too, from the standard traffic and search volume data to content-driven keyword research and competitive keyword gap analysis.
What is the best free keyword research tool for SEO? ›
Free keyword research tools
QuestionDB.
Ahrefs Keyword Generator.
SEMrush Keyword Magic Tool.
Ubersuggest.
Moz Keyword Explorer.
Soovle.
Keyword Tool Dominator.
Google Trends.
Which is the best tool for SEO keyword research? ›
15 Best Keyword Research Tools
Semrush.
Soovle.
Jaaxy.
Google Search Console.
Ahrefs Keywords Explorer.
SECockpit.
Google Keyword Planner.
KeywordTool.io.
Which keyword research tool is most accurate? ›
The 10+ best keyword research tools
Google Keyword Planner. ...
GrowthBar.
Long Tail Pro.
Majestic.
Keyword Tool.
Serpstat. ...
Moz Keyword Explorer.
SpyFu.
Where can I find low competition keywords for free? ›
You can use the free keyword finder tool to get keyword ideas including: Google Ads keywords – find high-volume, low-competition keywords that your competitors haven't discovered to use in your Google ad campaigns. Keywords for websites – find popular and niche keywords for your website at scale.
How do I find SEO keywords? ›
Step 1: Make a list of important, relevant topics based on what you know about your business. ...
Step 2: Fill in those topic buckets with keywords. ...
Step 3: Understand How Intent Affects Keyword Research and Analyze Accordingly. ...
Step 4: Research related search terms. ...
Step 5: Use keyword research tools to your advantage.